AL FAATIK – 2009
"AL" is by the legendary Thoroughbred sire, Invasor ( Candy Stripes X Quendom X Interprete ) out of the Graded Stakes Winning mare, Plenty of Sugar (Ascot Knight X Lemons to Lemonade X Conquistador Cielo ). AL has a bold personality yet a very business- like attitude when it came to racing. He displayed a certain grit that allowed him to be competitive and versatile at multiple distances.

Invasor, AL's sire, boasts an impressive resume and has an LTE of $7.8 million in only twelve starts with eleven wins. Some of Invasor's major wins and awards include the Uruguayan Triple Crown winner (2005), Breeder's Cup Classic ( 2006 ), Whitney Handicap ( 2006 ), Donn Handicap ( 2006 ), and the Dubai World Cup ( 2007 ). Invasor was also crowned as Uruguayan Horse of the Year (2005), United States Champion Older Male Horse (2006), United States Horse of the Year (2006), #1 - World Thoroughbred Racehorse Rankings (2006), Argentine Horse of the Year (2006), and was inducted into the United States Hall of Fame (2013).

Plenty of Sugar, AL's dam, is a Grade 2 Stakes winner with career earnings of $781K +. Some of her major wins include the Violet Handicap, Halton Stakes, Chrysanthemum Handicap, Rockingham Budweiser Breeders' Cup Handicap, La Prevoyante Stakes, Algoma Stakes, Canadian Oaks, and the Muskoka Stakes.

AL Faatik was a respected Stakes winner himself and despite his towering stature at 17HH, he is a proven winner at many distances from 5.5 furlongs to 1 3/16th miles and has a speed rating of 96. AL has career earnings of $64K + with 8 wins. He was also 2015 Horse of the Year at Les Bois Park. Some of his major wins and placings include Au Revoir Stakes, Stars and Stripes Stakes, and placed at the Instant Racing Stakes.

AL Faatik's first crop of foals that hit the ground in 2019 are built with a sturdy frame for durability and longevity, a brave personality, and a regal stature.

Are you ready to Join The Brave?

☆ 2020 Fee - $1,000 with concessions for approved mares.
☆ Standing at Windfall Farm in Lebanon, Oregon.
☆ Contact Michael Morris of Morris Racing for breeding contracts or questions at morrisracingstable@gmail.com.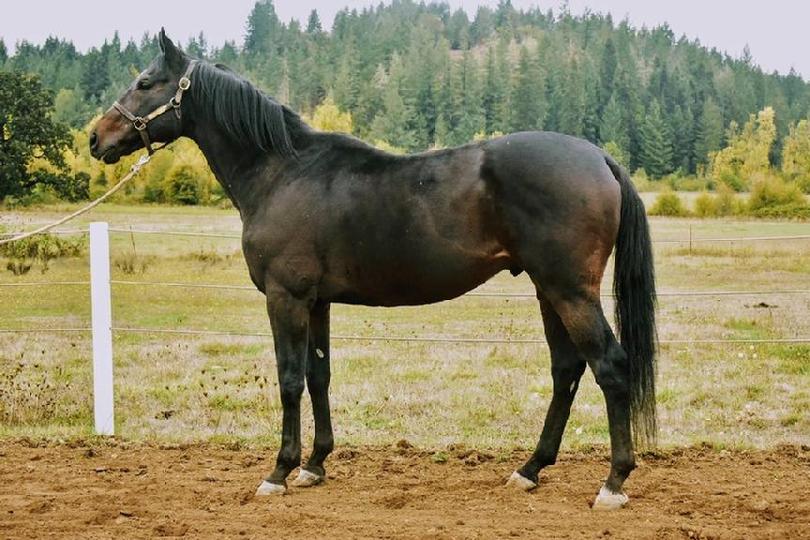 AL FAATIK
Oregon Thoroughbred Owners & Breeders Association, Inc.
P.O. Box 17248 ~ Portland, OR 97217-0248
Office: 503.285.0658 ~
Email: office@oregontoba.com